There are multiple ways to zoom in and out on a board in Conceptboard.
If you're using a trackpad with a pinch gesture, the app will automatically turn on Trackpad mode for you (Scroll to zoom off).
The default Conceptboard behavior is to have Scroll to zoom on. Here's how you can move and zoom in Conceptboard:
Mouse Mode Shortcuts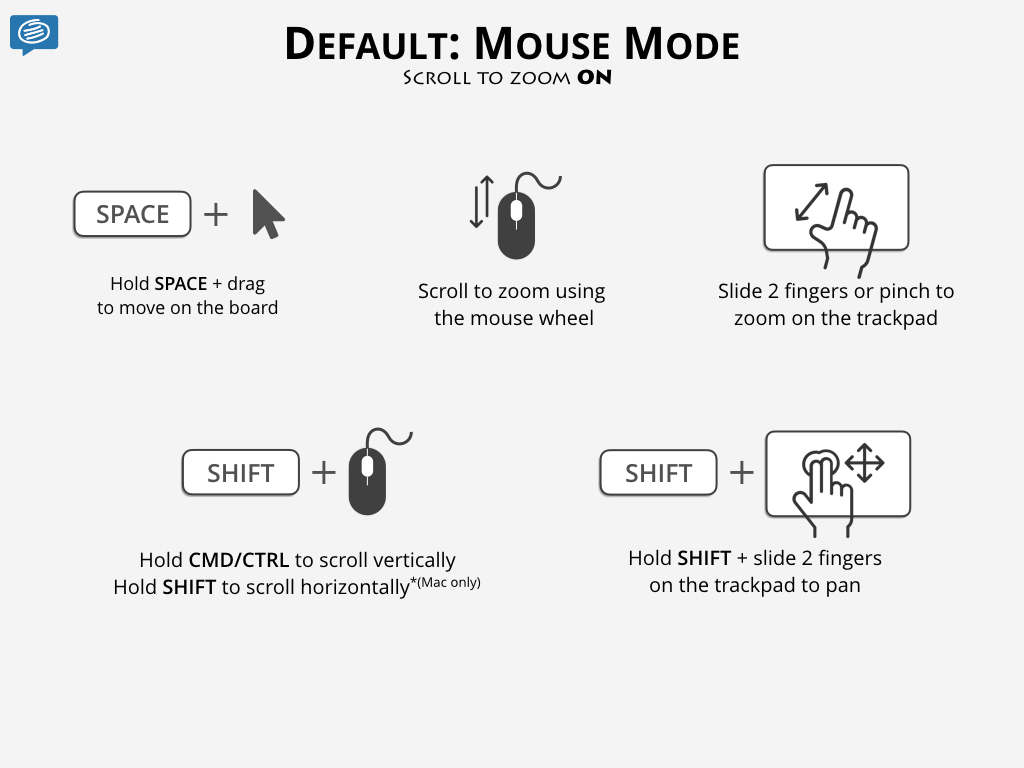 Trackpad Mode Shortcuts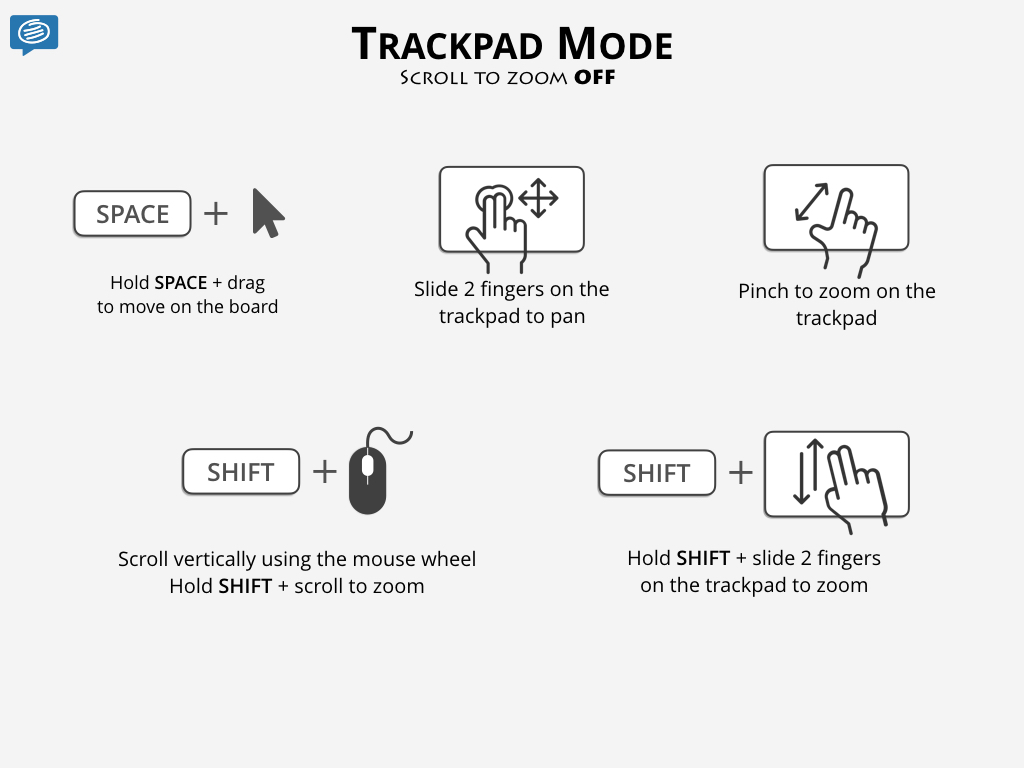 Please note: Pinch gestures do not work in Firefox. For a complete overview, see the tables at the bottom of this article. 
Zoom Tool
Select the Zoom tool (Z) and use it to select an area of your board, or use the drop down menu. You can hold Shift and click to zoom out when using the Zoom tool.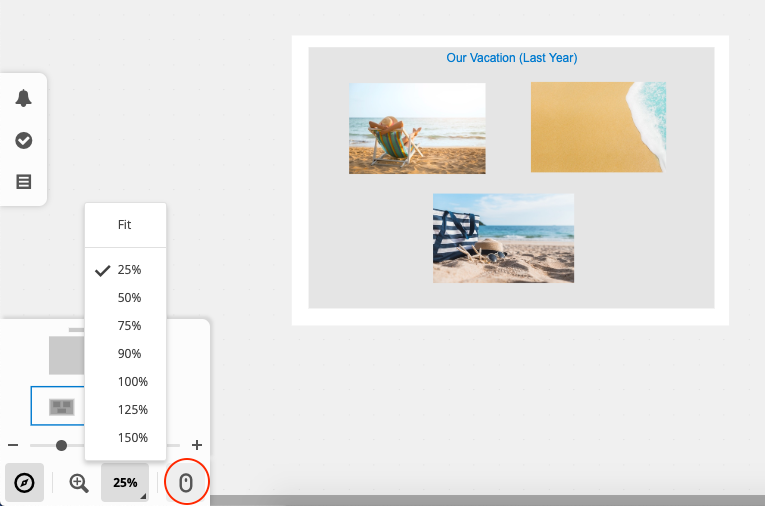 Minimap
The minimap displays a smaller version of your board including the outline of all the items on it. A rectangle on the map always shows your current position and field of view. When you click the '+' and '-' buttons below the map, you will zoom into the board while keeping your current position in the board.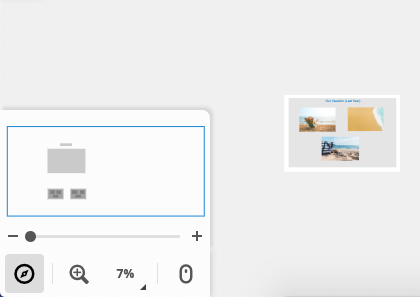 Tablets and Touch Screen Devices
This is the expected behavior for supported browsers on Windows and Mac. This can differ based on the mouse, trackpad, and drivers you have installed on your device. Please reach out to us in support if you have any questions!
| | | | | |
| --- | --- | --- | --- | --- |
| Legend | z =(zoom in/out) | y = (up/down) | x = (left/right) | xy = (panning) |
MOUSE MODE (default)
  
mouse wheel  
 trackpad  
touch screen  
mw
+ cmd/ctrl
 + shift
pinch
pan
pinch
pan
2 finger pan
OSX
Chrome
z 
y
x
z
z
-
-
-
Firefox
z
y
x
-
z
-
-
-
Safari
z
y
x
z
z
-
-
-
Windows
Chrome
z
y
y
-
z
z
xy
xy
Firefox
z
y
y
-
-
-
xy
xy
IE 10
z
y
-
-
z
 
 
 
IE 11
z
y
-
-
z
-
xy
-
Edge
z
y
-
-
z
-
xy
-
Tablets
iOS
-
-
-
-
-
z
xy
xy
Android
-
-
-
-
-
z
xy
xy
TRACKPAD MODE
  
mouse wheel  
 trackpad  
touch screen  
mw
+ cmd/ctrl
 + shift
pinch
pan
pinch
pan
2 finger pan
OSX
Chrome
y
y
z
z

xy

-
-
-
Firefox
y
y
z
-
xy
-
-
-
Safari
y
y
z
z
xy
-
-
-
Windows
Chrome
y
z
z
-
-
z
xy
xy
Firefox
y
z
z
-
-
z
xy
xy
IE 10
y
z
-
-
y
-
 
 
IE 11
y
z
-
-
y
-
xy
-
Edge
y
z
-
-
y
-
xy
-
Tablets
iOS
-
-
-
-
-
z
xy
xy
Android
-
-
-
-
-
z
xy
xy