Conceptboard offers discounted Education Licenses for schools, colleges and universities worldwide!
Education licenses are similar to our public cloud team licenses, except students have their own "Student" role and are the core of a Conceptboard Education license.
"Student" users can take advantage of most collaboration functionality: they can create boards and work on them, invite board participants, join live sessions, etc. - but at the same time, a handful of alterations apply, that are targeted to match the unique requirements of the educational sector:
Students cannot see other "Student" team members (e.g. in their users list, or find them in the @mentions drop down) until they have worked together in a board
Students cannot start audio and video conferences on any board, no matter what their board roles are; they can join conference calls though, that have been initiated by teaching staff
Students can register themselves as a member of an Educational license team, by entering the team's specific Student Registration Code on the team's specific Conceptboard subdomain (invitation via email by team Administrators or teaching staff is also possible)
"Student" users are being charged less than team members in all other Conceptboard licenses
Student Invitation via Email
Any teaching staff (Administrators and also Internal Users, if allowed) can invite other team members, including students, via email. There is no restriction on the used e-mail domain (you don't need to have your school's e-mail address).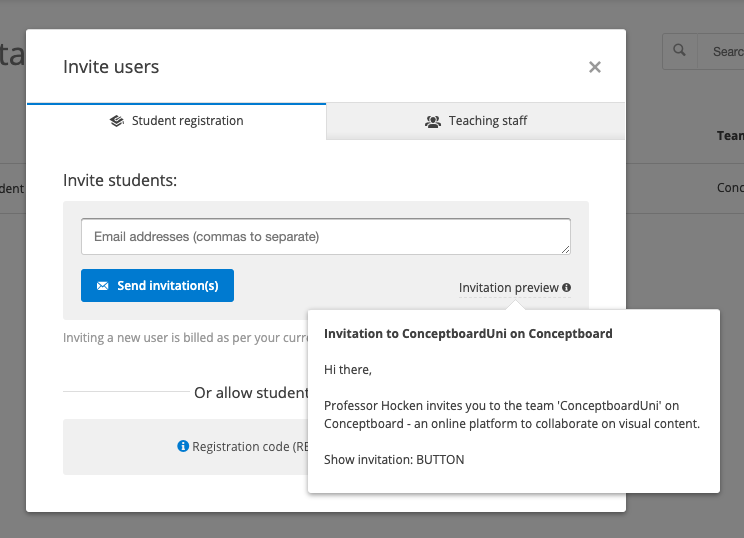 Student Invitation via Student Registration Code
You can also activate a Student Registration Code at any time, which allows your students to invite themselves to your team, making administration easier. Administrators can change the Student Registration Code at any time: on your home screen, click onto "Settings" > "Team Settings" > "Student Registration Code". Make sure to scroll down the page and click onto "Save all Changes" before leaving the page. Every Teaching Staff can retrieve the code via the Invite Dialog, and then distribute it to the students, e.g. via their online learning platform.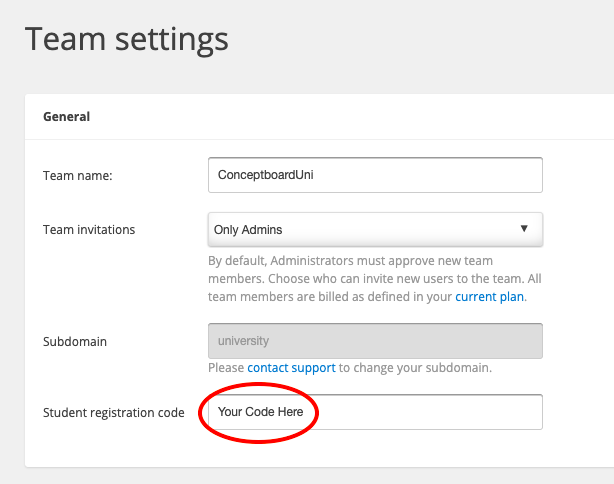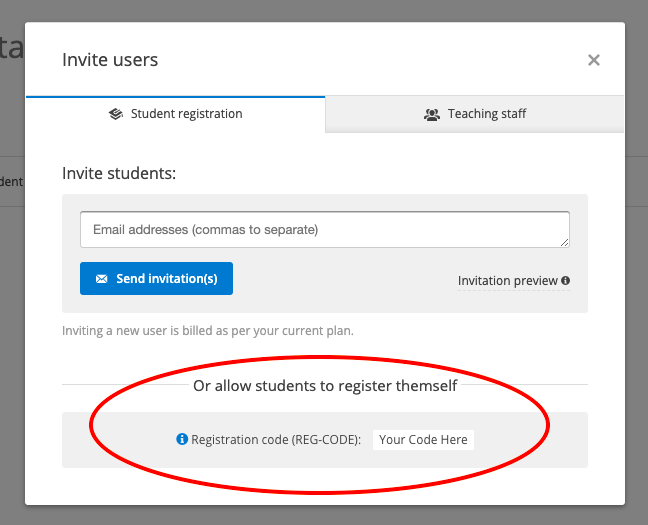 New Student Accounts
On the login page of your institution at Conceptboard, aka the Subdomain (needs to be set up by Conceptboard support), students see your log and the regular login forms.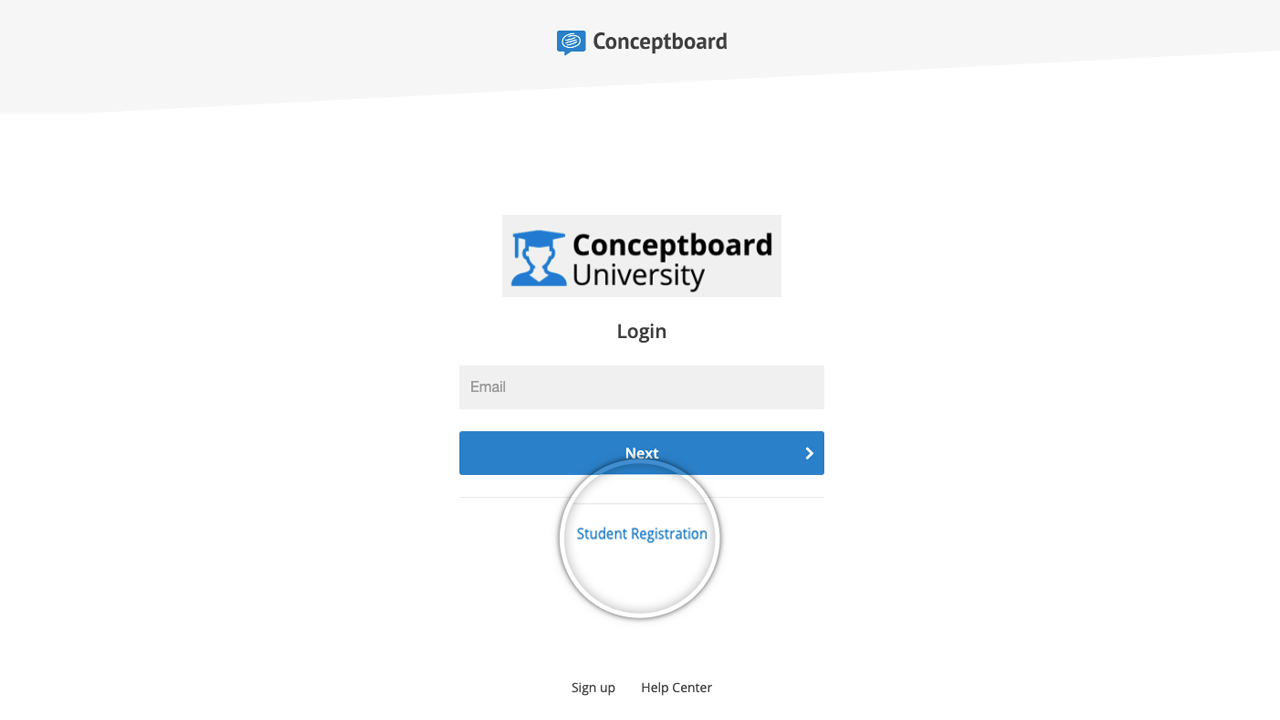 If they do not have an account yet, but a registration code, then can click "Student registration" and they will be able to create a new account that is automatically connected to your educational license.

Adding Existing Free Accounts to an Education Account
If the student already has a free account they wish to connect to an education team, they will need to be logged in to their account on app.conceptboard.com, then access the following link to get to the registration page (please add in your subdomain):
https://YOURSUBDOMAIN.conceptboard.com/__/company/join/student
Once they add the registration code they will see this page. When they click confirm joining, they will now be part of the education account as a student.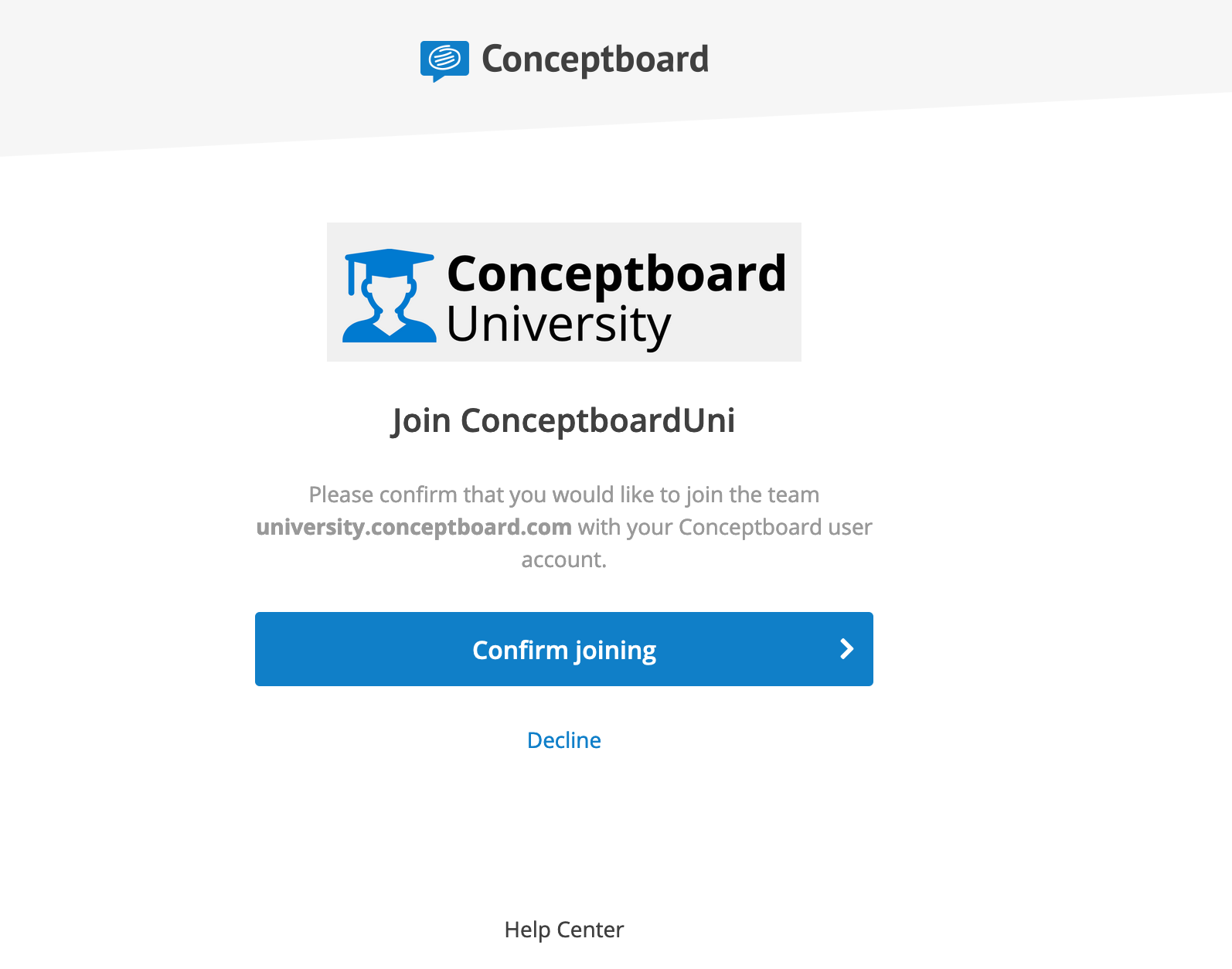 Working with Classes and Online Learning Systems
Currently, there is no specific online learning system integrations available. However, with a few workarounds, classes and their respective boards can be managed easily:
Representing classes as "Projects" in Conceptboard:
Projects are folders you can use to collect and sort boards. Once students are registered, teachers can e.g. create a project per class, and invite students as project members. This means, that from this moment on, every board that is part of the project will be accessible for them.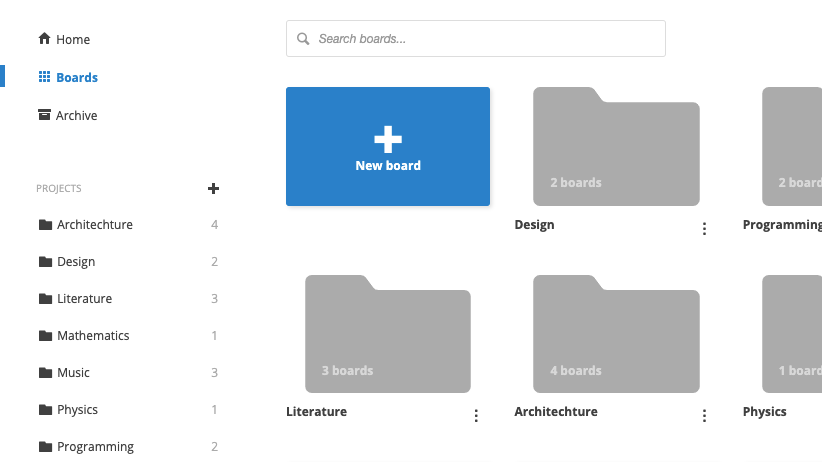 Linking boards in Online Learning Systems:
All boards can be shared via their board URL. You can access the board if you are already a board participant (e.g. via a project membership), or if the boards' access mode is set to "Anyone with the link only can access". If your classes are being managed in an external system, you can link the boards within your website and have your students access them through the link.

Embedding board in external systems (experimental):
Tech-savvy users can use iFrames to embed boards in external systems, such as Moodle or others. Please note, this function is experimental and the access restrictions as mentioned above apply.
Pricing
Education licenses are charged by the amount of Students. We offer packages of 100 Students, whereby each pack includes 10 free teaching staff licenses (internal users or administrators). Students are charged at 1€ per month (USD 1.10) when billed annually. Semi-annually payment is possible. Volume discounts apply starting at 1000 students.
Are you interested in our Education license? Request a quote from our sales team here!