Have you ever tried to conduct an online meeting using just screen-sharing? While very useful, notes are often lost in text editors or you have to rush to make sure you capture everyone's ideas, especially when it comes to group collaboration.
That's why we're so excited to include User Cursors in all Conceptboard boards. User Cursors is one of the collaboration tools that will revolutionize your remote or virtual team collaboration.
Collaborate in Real-Time in your Browser
Your own cursor is shown as a standard cursor, just like you're used to it from other programs. Every other board participant on the board has their own colored pointer and name tag, so there's no more guessing about which part of the content someone is talking about.
Moderator Control
Don't let people get lost! Nobody likes to have people jumping ahead of them during a presentation. Use User Cursors in combination with Moderator mode to keep everyone focused and on point.
Communicate Visually with Live Scribbling
A picture is worth 1,000 words, right? Sketch your ideas directly on top of the content you're discussing. Or, comments are a great way to capture additional notes and information, and anyone can add them at any point when you're collaborating together on a board.
Built in Video Conferencing in every Board
To make things even easier, you can turn on video conferencing for instant virtual meetings.
Turning User Cursors on and off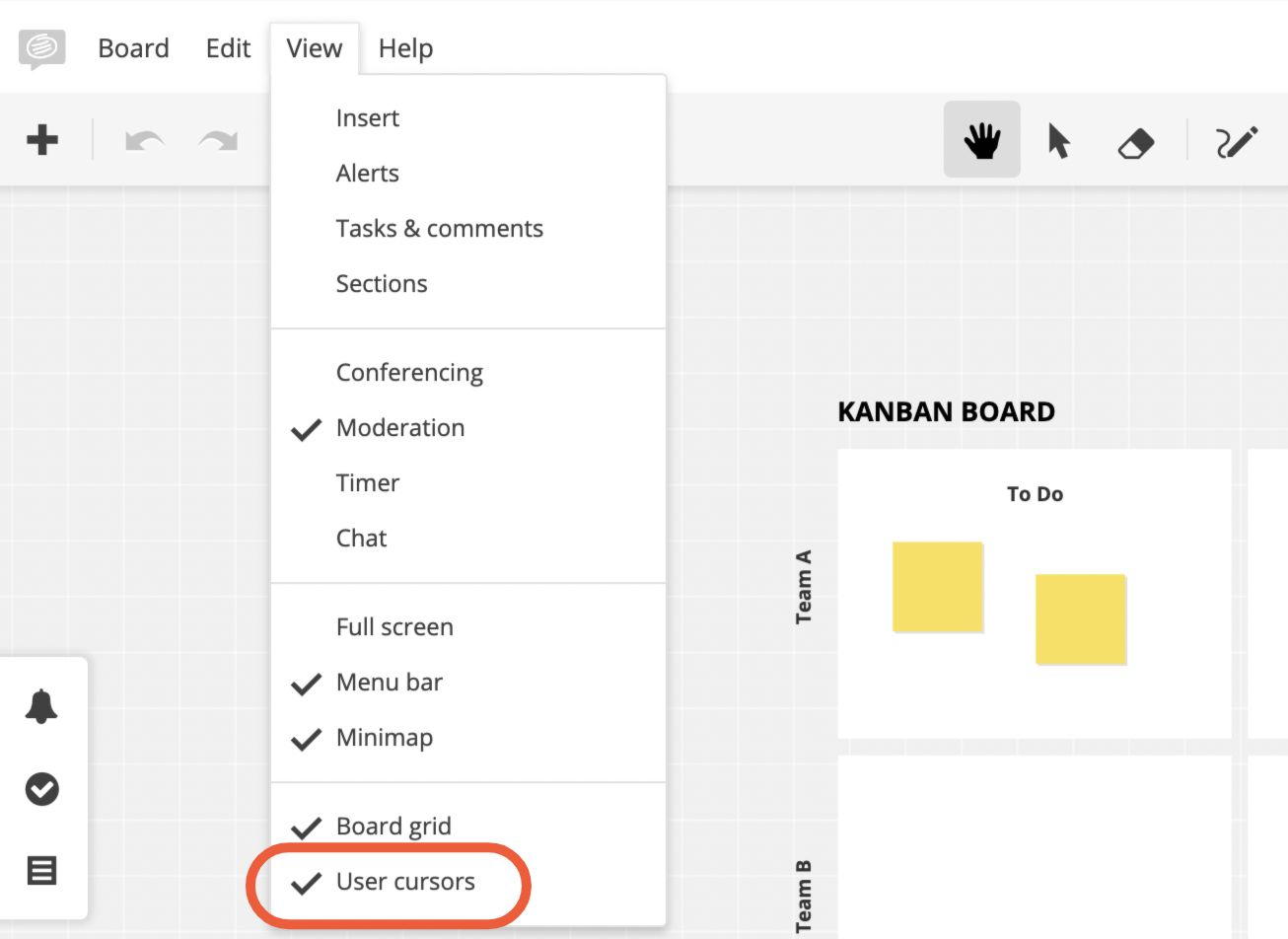 When working in the same board with others, the participant's user cursors are turned on by default to make sure you can follow along with everyone. Once there are multiple users in the same board it can get a bit messy with all the user cursers flying around. In this case you can simply turn them off by clicking on the View Menu of your board and then unchecking the user cursors option.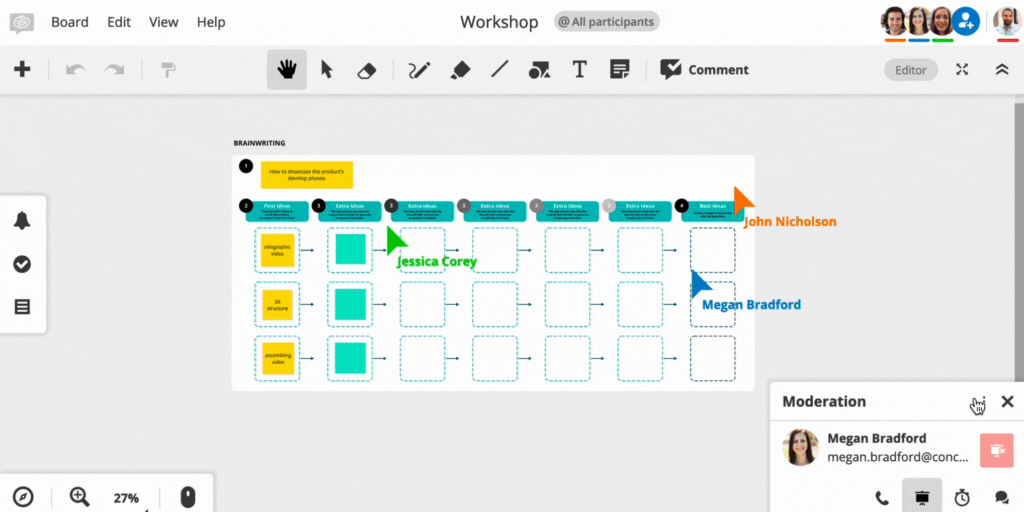 To make things easier while running a moderation, you can also find the option to show and hide user cursors in the three-dot-menu of the moderation. Please note that changes made to the display of user cursors will only take place for yourself. Therefore every board participant can make his own settings but if a moderation is running, the moderator's cursor will always be visible for other users (not for the moderator himself), even when user cursors are turned off.
What You Can See: Using the Minimap and User Cursors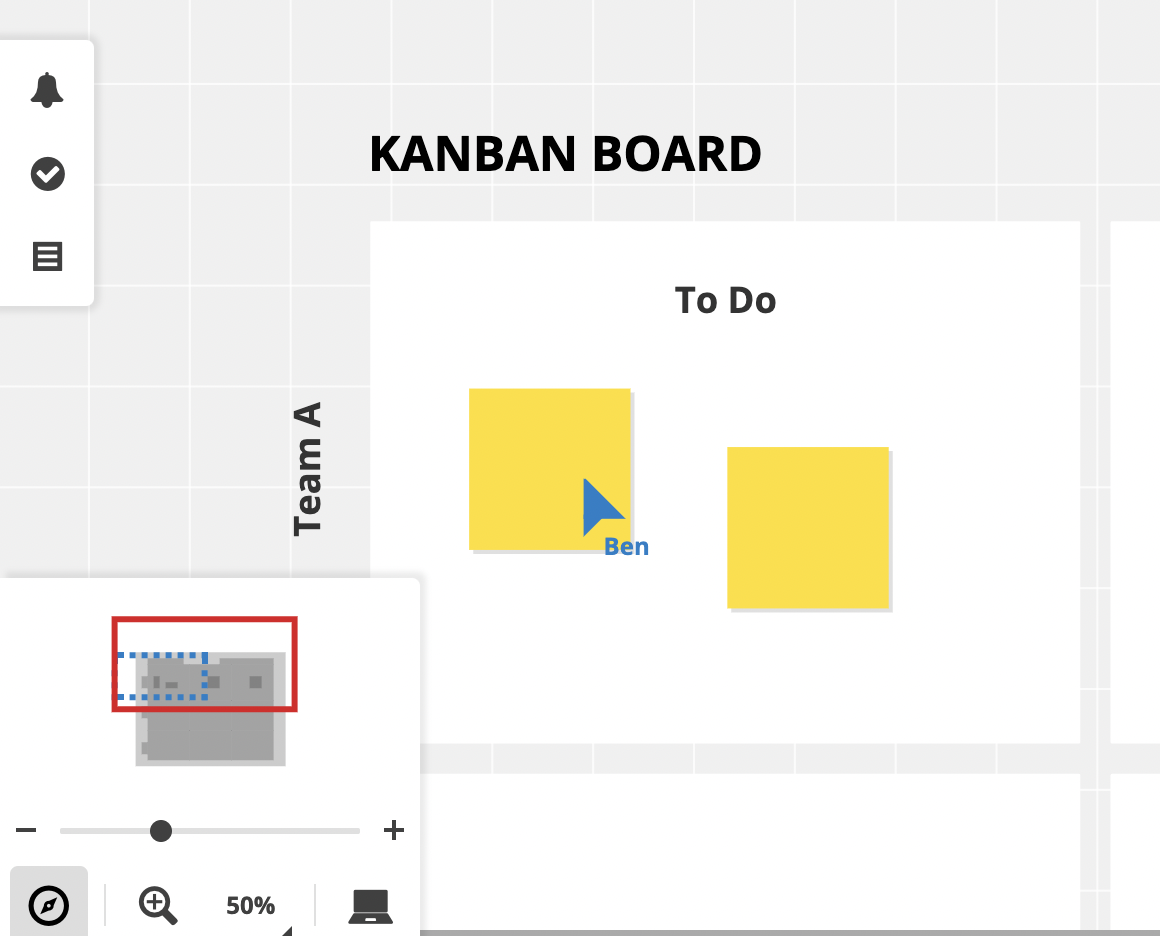 When the User Cursor is turned on, check your Minimap, located on the bottom left corner of your board, to see where people are in the board. The dotted rectangles visible in the minimap show you the viewport and location of the other participants. The red rectangle in the minimap shows where you are in the board and your currently view. You can then click anywhere on your minimap to be brought to that section of the board. You can hide and show the minimap by simply clicking the compass needle.