What is the free team plan trial?
The free 30 day trial is to give our users the chance to try out the full professional features with their team.
How can I upgrade to 30-day free trial?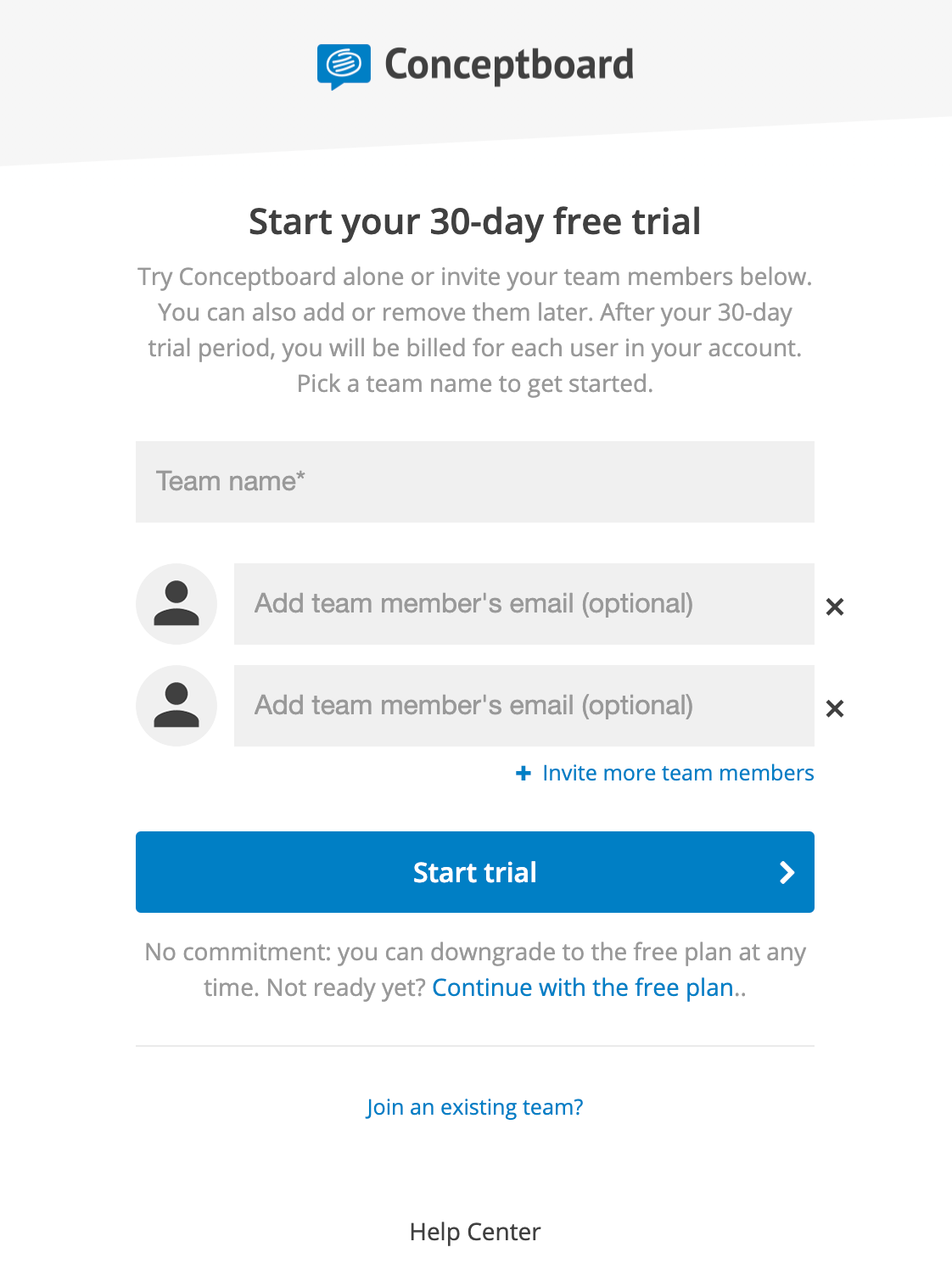 Feel free to to try out our free 30-day trial paid account! Here's how:
1. On your free account, click on the "Upgrade" located on the upper part of your overview page.
2. Select "Start trial".
3. Type in your Team name, team members' email (optional), and click "Start trial".
Note: You can also upgrade to free trial as a single user only. You just have to provide a team name and automatically, you will be set as an Administrator.
What happens when the trial is over?
There is no obligation or cost associated with the free team plan trial. Try it out with as many people as you like for 30 days. If you find the team plan is not for you, don't worry, you don't have to cancel anything!
At the end of the trial, your account will automatically be paused. You can reactivate your account by providing payment information.
Should I wait till the end of the free trial to upgrade?
No need — if you start the free trial and realize immediately that using Conceptboard will improve your team collaboration, that's great! Your trial will continue for the full 30 days, no matter when you add your payment details. We will only charge your credit card after the trial has ended.
Can I pay for a full year?
You can choose the fixed payment option with an annual billing period and save 20%! For more information please see our Billing FAQ's article.
What are the benefits of using this free trial? What can I do?
We're always improving Conceptboard, and we're excited to show you the full professional features that are available as part of the Team plan. Check out our features pages for full information, but the main benefits are:
Unlimited board space and projects
Password protected boards
Regulate the Board Access Management: Invite/Remove specific users from boards or disable guests
Team user roles and management
Custom section export
Video Conferencing and Moderator Mode
What happens if I upgrade to the team plan then want to use it for non-commercial purposes?
You can manually downgrade your team to a Basic plan if you want to use Conceptboard for non-commercial purposes.
If you add your credit card information during the trial, your account will automatically continue on the paid team plan and your account will be charged. If you want to use Conceptboard for non-commercial purposes after adding payment information, you must downgrade your team before the end of the trial to cancel the team plan.
If you change your mind after the trial ends, you'll be bound by our usual terms of service: you can cancel at any time, and no further invoices will be created in the next billing cycle. We do not refund payments for invoices already created.