You will receive in-app alerts and email notifications when an update has been made in
the Board Workflow.
You decide if you would like to receive notifications from the Board Update Feed in an individual board or in a project.
Note: this notification setting is separate from the notifications you will receive for @mentions and task assignments. To change the settings for how often you receive these types of alerts, please access your 'Edit Profile' page.
You will receive email notifications:
When you have been asked to approve a board
When you have missed the deadline of an approval process
When a decision has been made during the approval process (approved, accepted with edits, did not approve)
You will receive an in-app alert:
When you have been asked to approve a board
When you have missed the deadline of an approval process
When board participants have worked on a board
When an approval process has been cancelled
When an update has been posted on the Board Updates Feed
Board Notifications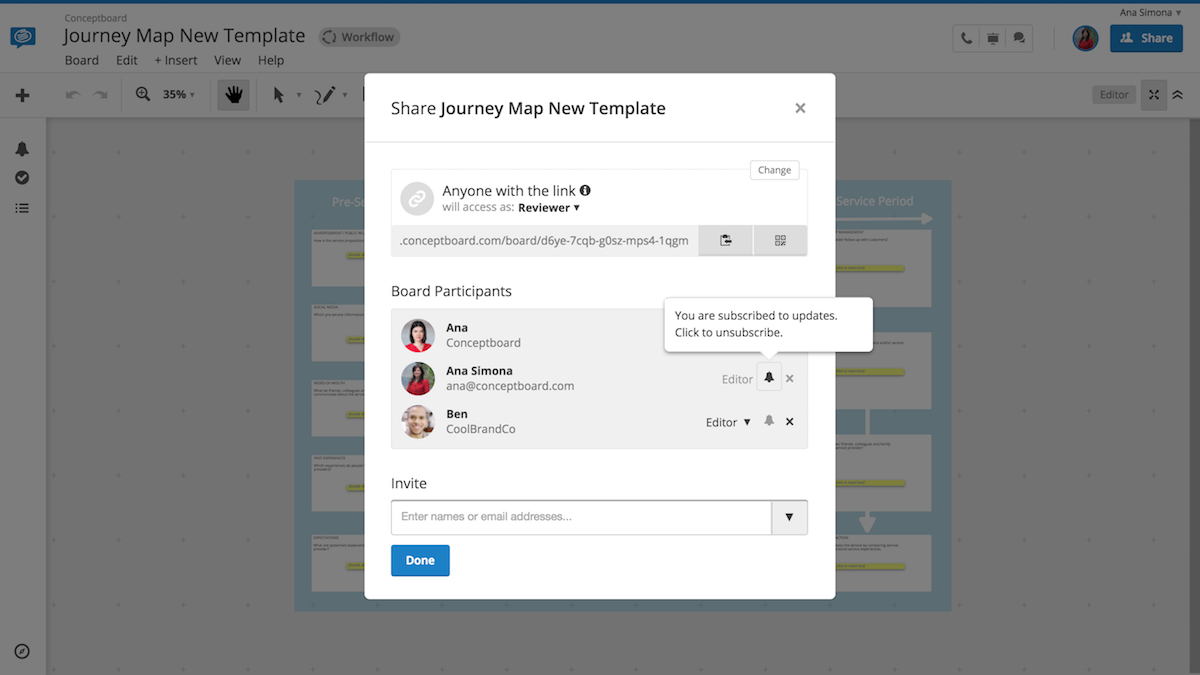 To change your notifications settings for a board, access the 'Share' dialog by hovering over a board tile in your 'Boards' page and clicking the share button or by clicking the 'Share' button directly in the board.
You can see the notification settings for you and other board participants by a bell button located to the right of all names.
When the bell button is crossed out that means you or the corresponding board participant has turned off the notification setting, and you will no longer get notifications when someone posts an update, but you will still receive alerts when someone @mentions you directly or starts an approval process with you.
Note: You cannot change other board participants' notification settings.
Project Notifications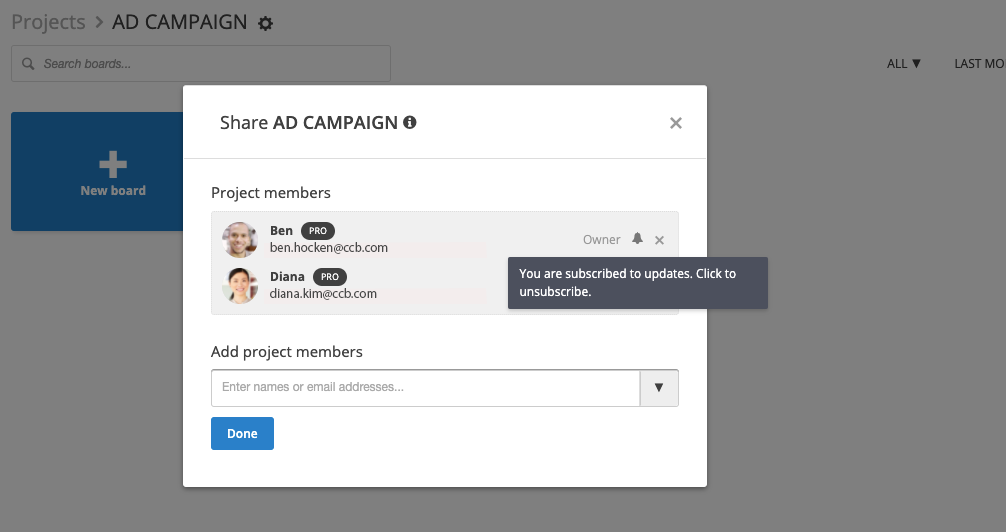 You can set your notification default for boards in a project, at project level.
From inside a project, click on the 'Share Project' button, located in the top right corner. In the appearing dialog, click on 'Advanced' to see all project members, including yourself, and their settings. You can then click on the bell shaped notification icon on or off to change your default setting.
When the bell icon is crossed out for you in a project, that means you have turned off all notifications in that project. You will not receive any updates on any boards that are in the specific project via email or in the app, so you will have to sign into individuals boards to see updates.
Important to note: All boards created in a project will automatically take the notification settings of the project. If a notification setting was set in a specific board before including it in a project, then the board will stay with that specific setting after it has been moved into a project.