Your Users Page button is located in the left hand panel of your screen.
Icons and Tags Explained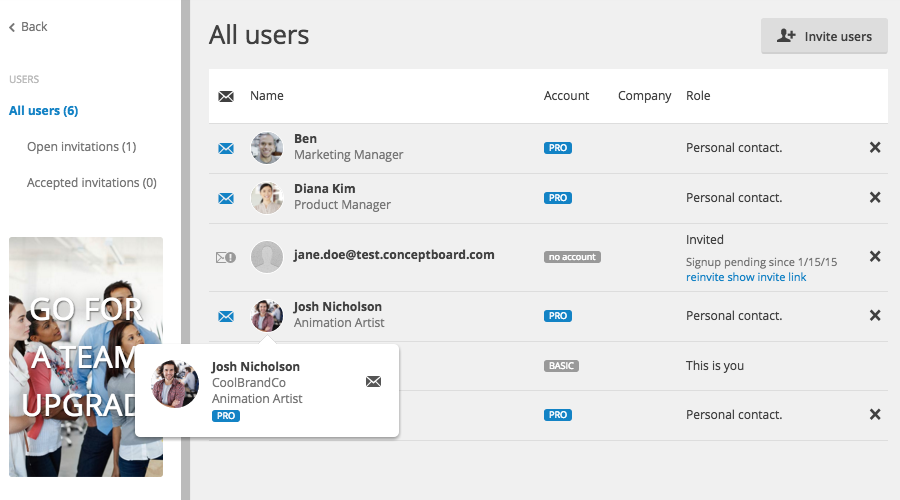 As a basic user, your Users page will show you all users that you have worked with in Conceptboard. 
All of your contacts will be listed with: 
User name
Description: You can add a short description of yourself via the Profile Settings tab. 
The account type: All professional users will have a blue 'Pro' tag underneath their name. All basic users will have a grey 'Basic' tag underneath their names.
Company name
Role: As a basic user, all users you have worked with will be listed as a personal contact.  
Activation status: If the user has a blue envelope next to their name, this means that they have activated their email address and are able to receive notifications via email. If the user has a grey envelope next to their name, they have not activated their email and will not be able to receive any notifications via email.
What is a Basic User
As a basic user, you have all of the basic features that you need to work in Conceptboard. You can work with others in a board but you cannot be part of a team or add other users to your team.
For unlimited board space and all professional features, you can upgrade your account. 
All Users Tab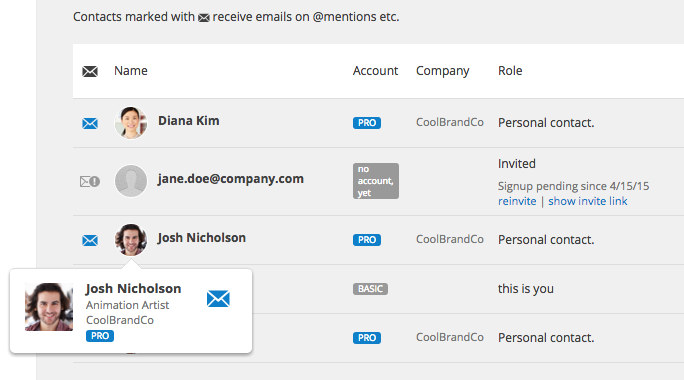 All users that you have worked with will be listed as 'Personal contact' in the 'All users' tab. These users are your personal contacts that you have either shared a board with or @mentioned them in a board. 
Open Invitations Tab
All invitations sent out but not yet confirmed will be located in this tab. You can resend an invitation if need be or cancel the invitation all together.  
Accepted Invitations Tab
All accepted invitations will be shown within this tab. You can keep track of how many referrals you send out. 
Inviting Collaborators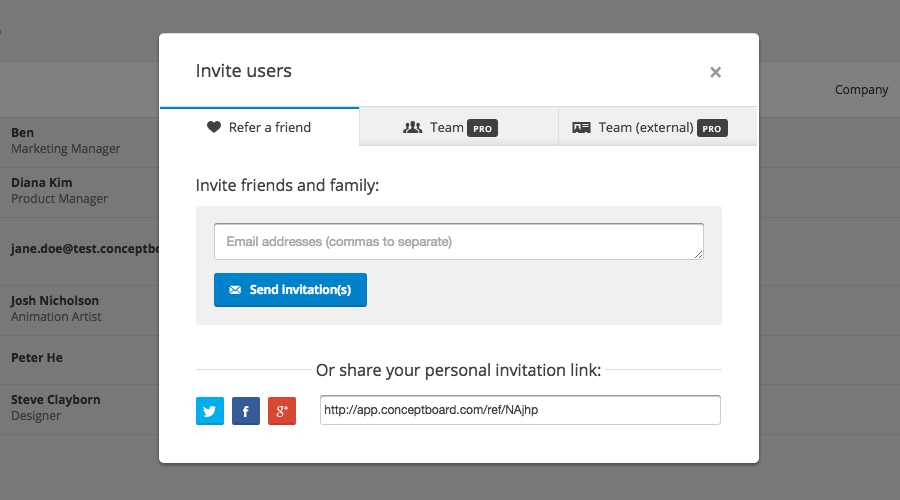 To invite collaborators, click on the Send Invitation(s) button in the top left corner of the Users page. Once the dialogue box is open, you will have 3 choices of how to invite a person:
Refer a friend
Team members
Team (external)
You can refer a friend to gain extra square meters. For each friend you refer, you gain 5 square meters at a maximum of 100 square meters. After your first successful referral, we will unlock video conferencing and moderator mode on your boards!
Enter an email address and click on 'Send invitations' or share your personal invitation link with your social media.
You will need to upgrade to a professional account in order to invite others as team members or external team members.
Removing a User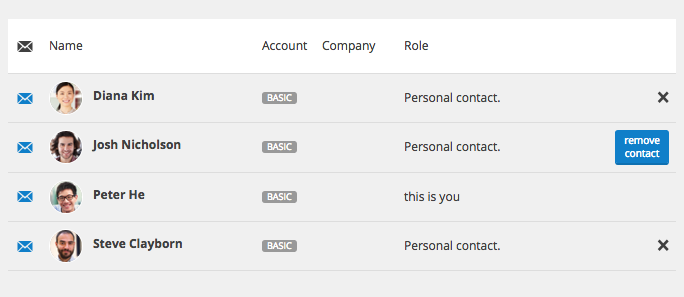 To remove someone from your Users page, click on the All Users tab. Then click on the Remove icon (X) located on the far right of the user's name. You will have to click on the icon twice to confirm that you would like to remove the user from the list.