Our free accounts can create as many boards as they need, and work with anyone, from anywhere. If you need more than the free plan can offer, you can upgrade your account for unlimited objects and additional pro features on your boards.
The board limits are depending on who is the 'board owner'. This means that the board limitations also apply to you if you are a pro user who is working on a board from a free user.
How to Tell what Type of Board you are on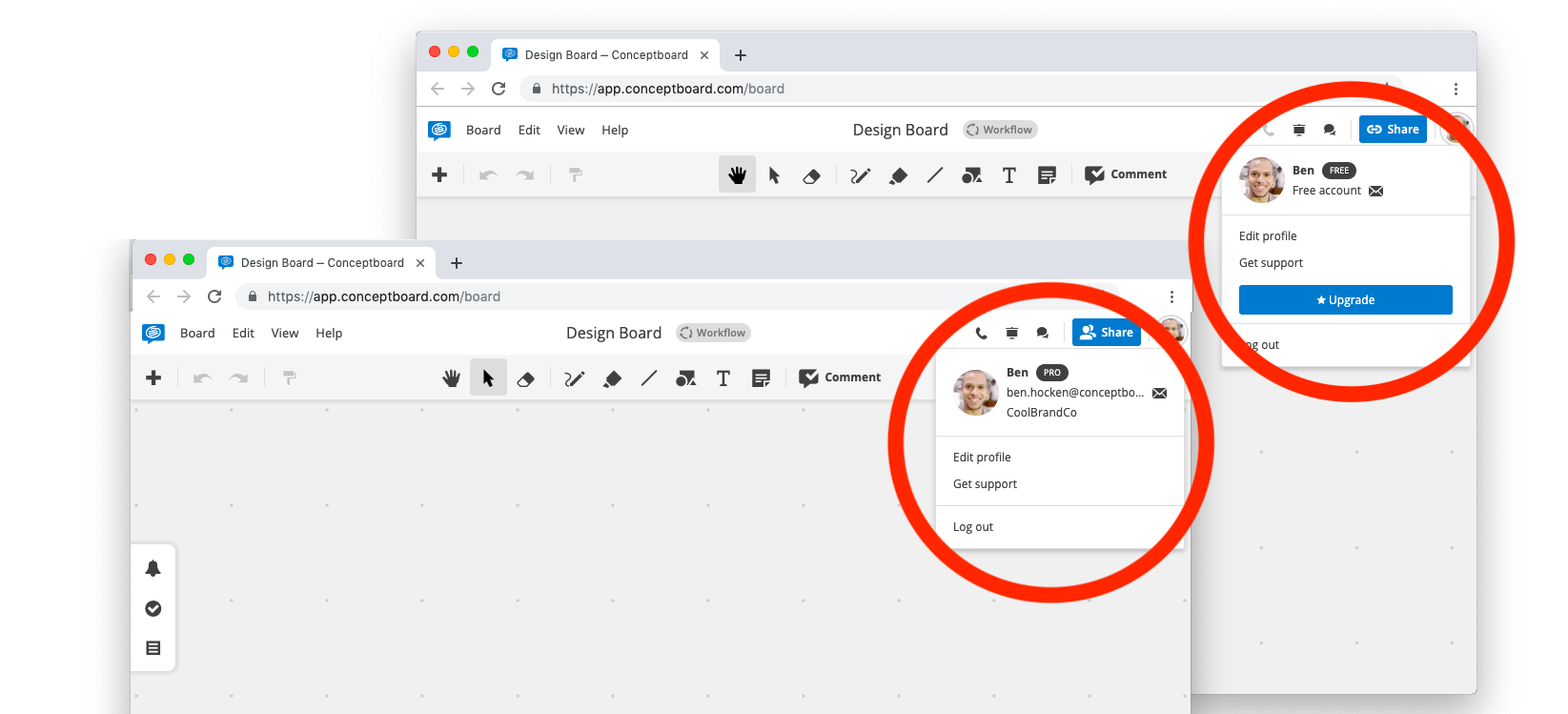 While being on a board, click on your icon in the top right corner to see what type of account you're using. This status will also be visible for Guests who have access to your boards. You can always find the board owner in the "Share" dialog.
If you have a free account the amount of objects you can use on a board is limited (see below). The object counter in the top right corner will show you how many objects you have already used.
The following limitations apply to free boards:
100 Objects per Board
Free boards can contain 100 objects (uploads, shapes, and text items… we're not counting scribbles, lines, or hand writing). You can see your object count in the toolbar.
When you reach the limit, a popup alerts all board participants, and then you can upgrade for unlimited board objects, or move work to a new board to continue working.
Board Owners and Editors can then:
File Upload Size
Please note that there is an upload size limit of 10MB for free accounts.
Guests
There can be an unlimited amount of Guests on a free board however these Guests may only access as a Reader or Reviewer. To leave comments and collaborate, a Guest must create a free Conceptboard account, which they can quickly create directly from the board itself.
Board Access Management: Anyone with the Link
Free boards have a single type of board access: "Anyone with the link".
Board URLs are private to the board owner, who can then share the URL link with others.
The default access role is Reviewer, which allows anyone accessing directly via the link to add comments, sticky notes, and scribbles, as well as their own uploads, but they can't make any changes to other's content on the board.
Additional Pro Features
In addition to unlimited objects the following features are only available when upgrading to a pro account: