Research is not easy: vast amounts of data, hours on hours of analysis, ideas popping up at random times and places. Information to remember, to select, to filter and discard, or to untangle gradually bit by bit.
Or maybe you'd like to delve into visual sources and ideate, track your ideas and build your designs?
Research is indeed not easy. But Conceptboard helps you come on top of many crucial challenges of project design, planning, brainstorming, mind mapping and progress coordination, so that you can concentrate only on the creative part of your journey.
Why should you choose Conceptboard as your online whiteboard?
An online whiteboard helps you piece together ideas, generate new insights and facilitate team retrospects which are all integral parts of a research process.
Without further ado, Conceptboard gives you a consolidated online platform, where you can:
Basic Digital Whiteboard Features to Bolster Research
Conceptboard boosts your research to the maximum, when you use these features:
Infinite canvas (board size is not limited by spacial limitations or scope and allows your project to build up gradually)
Standard input tools (writing, sketching, and highlighting)
Sticky notes and shapes (tools to present textual information more effectively)
Data import (MS Word, PPT or PDF files, pictures and even embedded video/audio files)
Shapes and icons to visualize your data
Customized templates and building blocks to organize your thoughts, plan your progress, keep your data categorized and making retrospects truly beneficial
Integrated video- and audioconferencing solutions, as well as compatibility with MS Teams
Feedback tools such as commenting, tagging users and requesting tasks directly from the board
Access rights management: differentiated board access for different collaborators
Export function for whole boards or selected board areas – export single fragments of your boards as PDFs or images to keep track of your project, for documentation, or reporting
How to Start?
Brainstorming, planning and Analysis: Templates and Building Blocks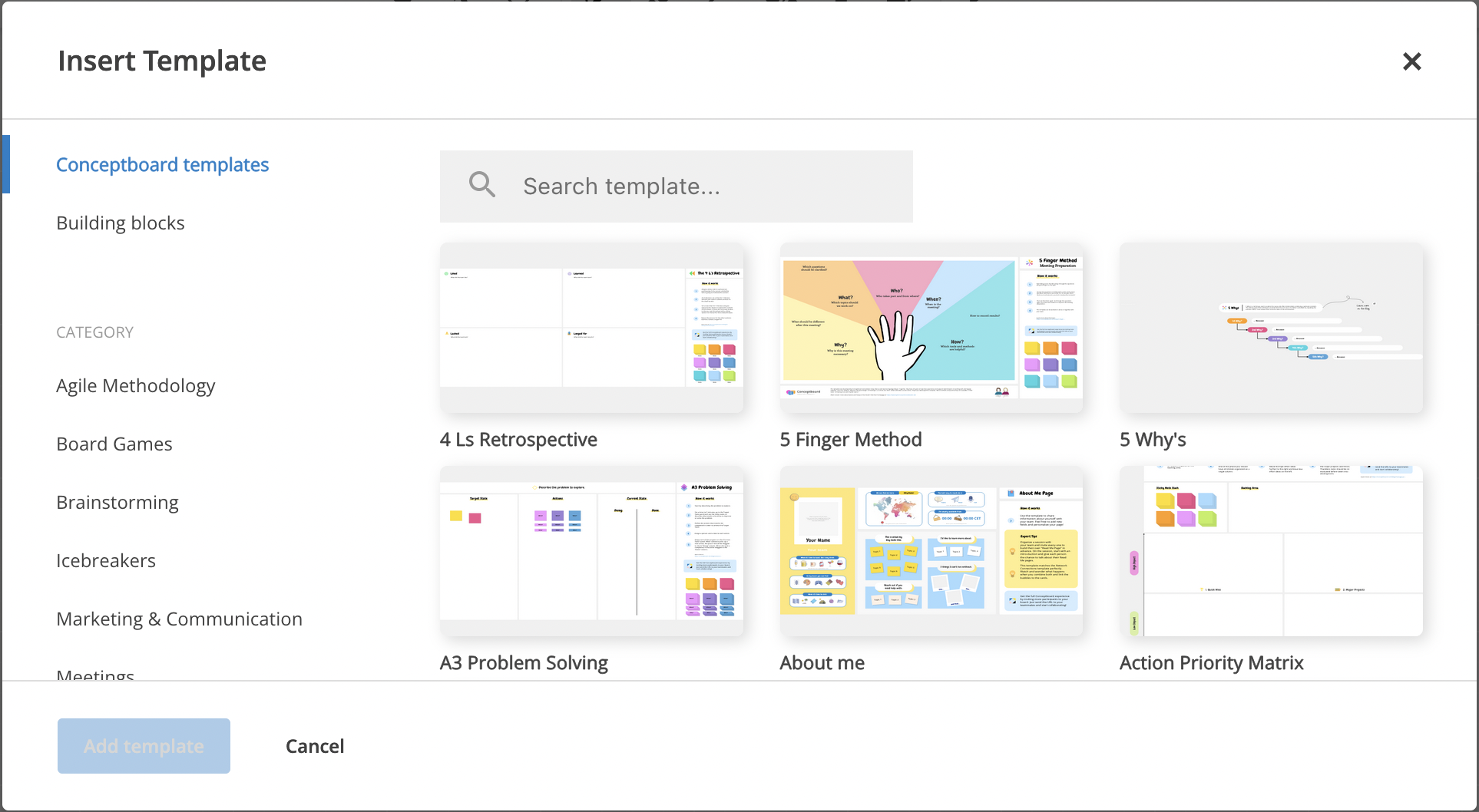 Try out Conceptboard builtin templates to get you started on your investigative journey, and to let your creativity thrive with easy virtual visualization. You can find a variety of templates catering to different use cases:
Agile Methodology
Brainstorming
Meetings
Project Development
Planning & Strategy
For more Conceptboard recommendations about research-related templates, check out 4 Ls Retrospect, 5 Why's, Bull's Eye and Fishbone Diagram for streamlining analysis, and e.g. Kanban boards or Annual Planner for time management.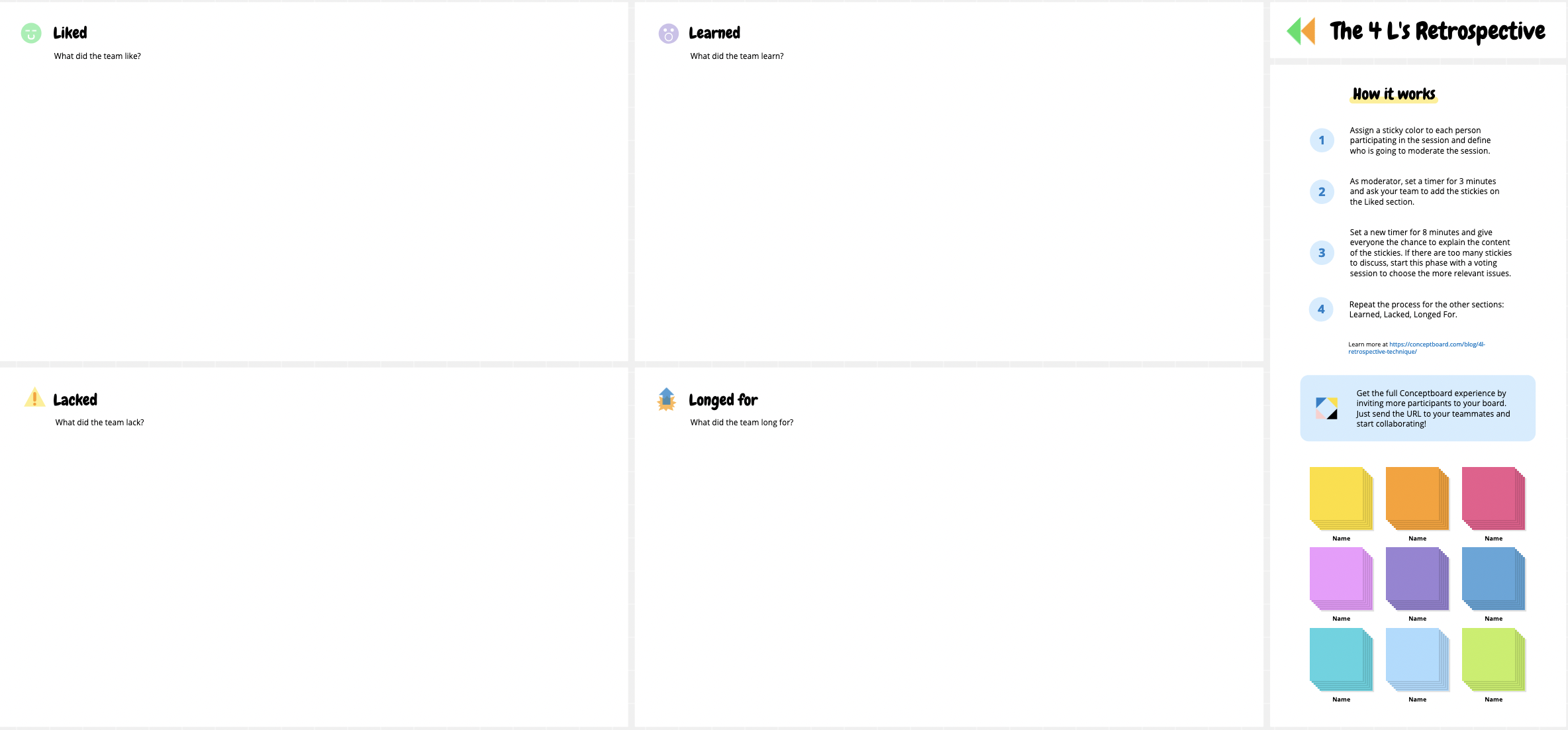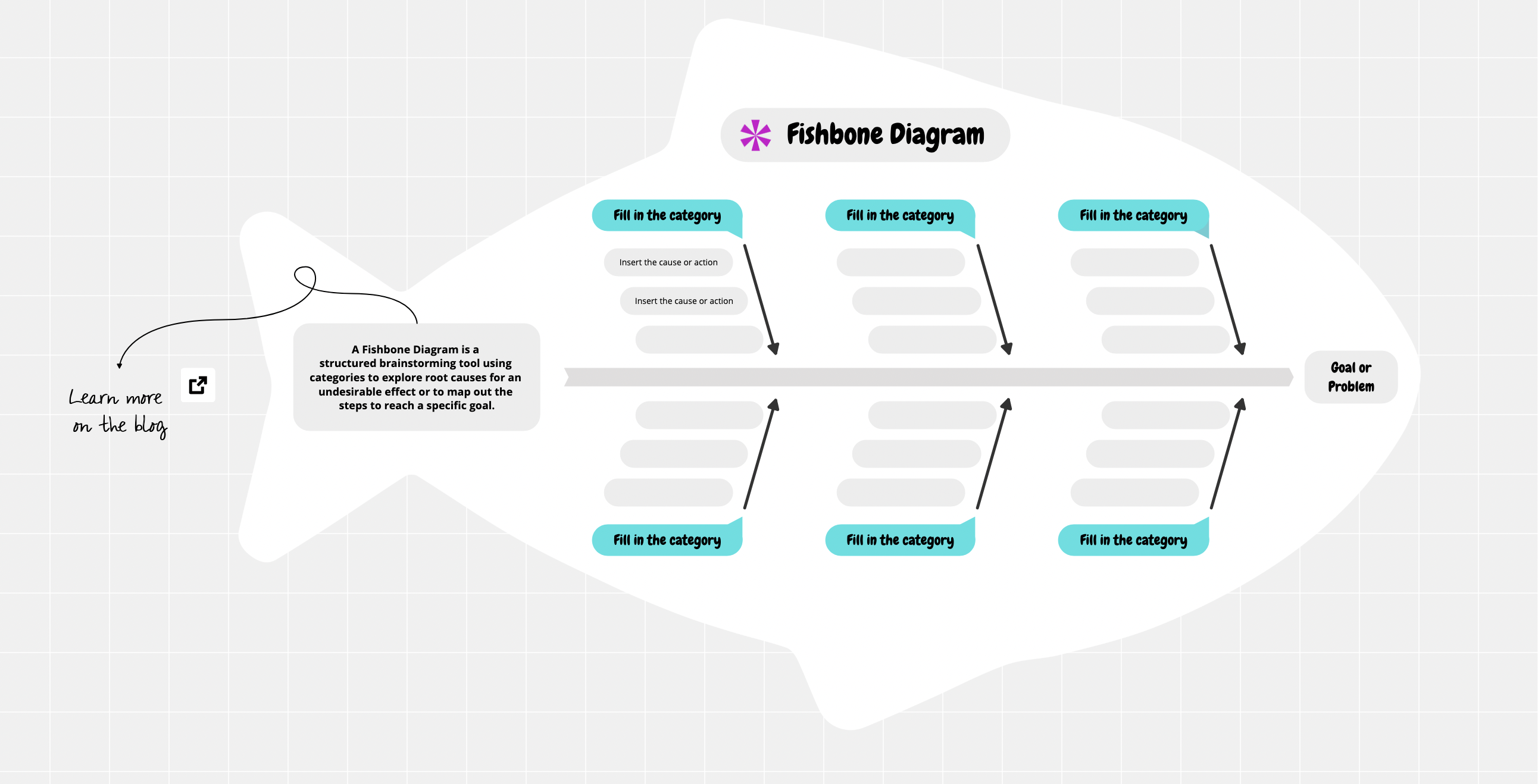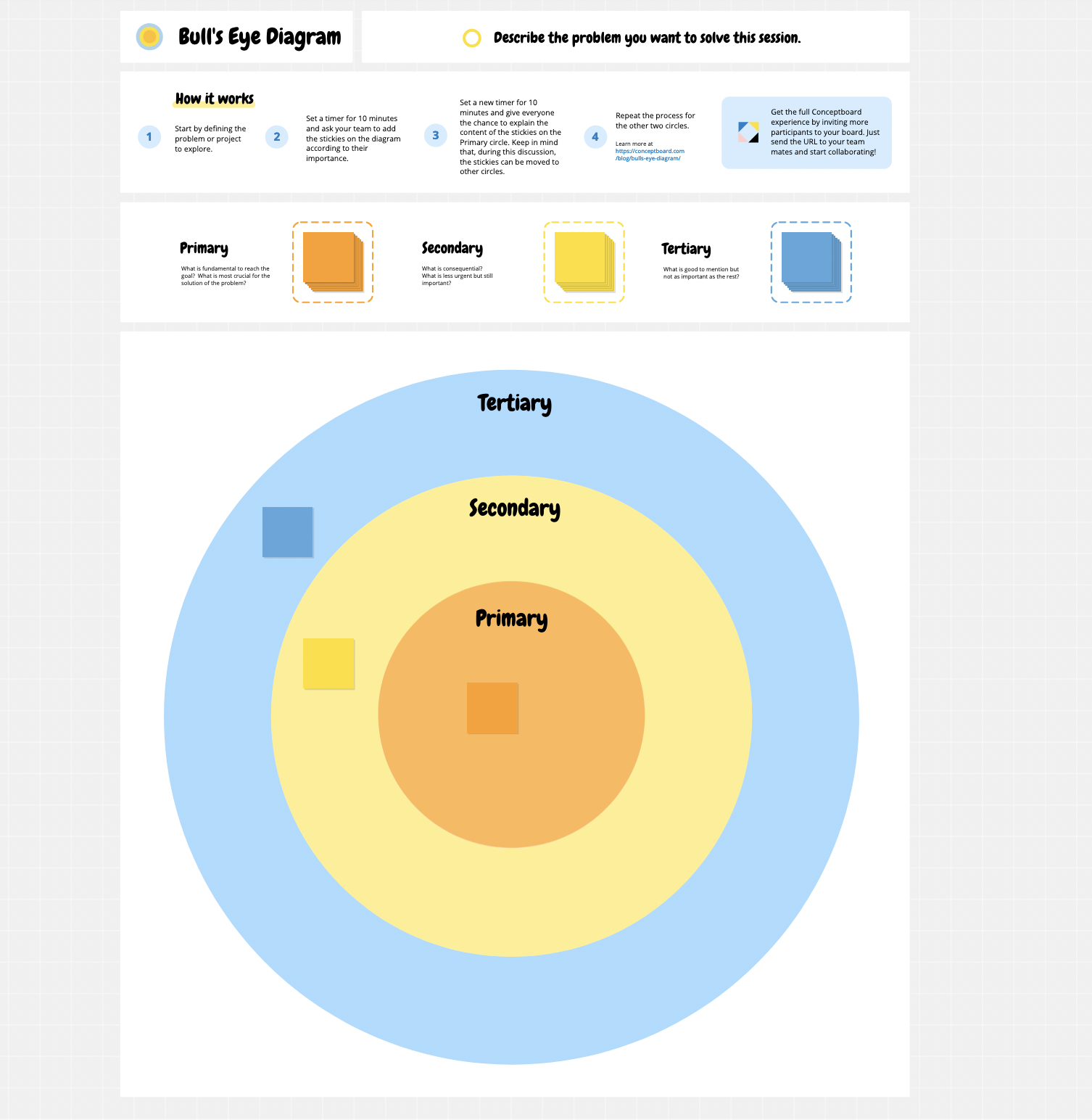 Time management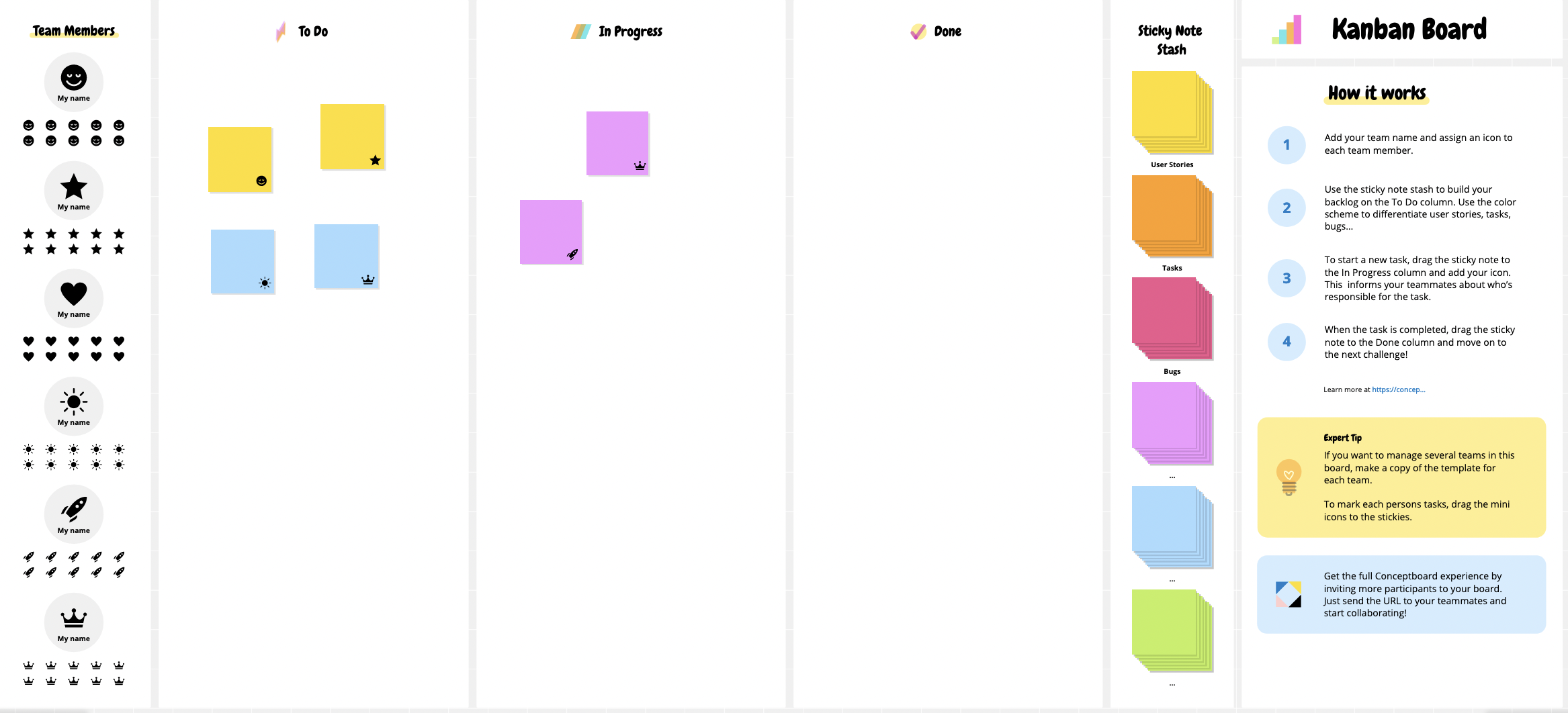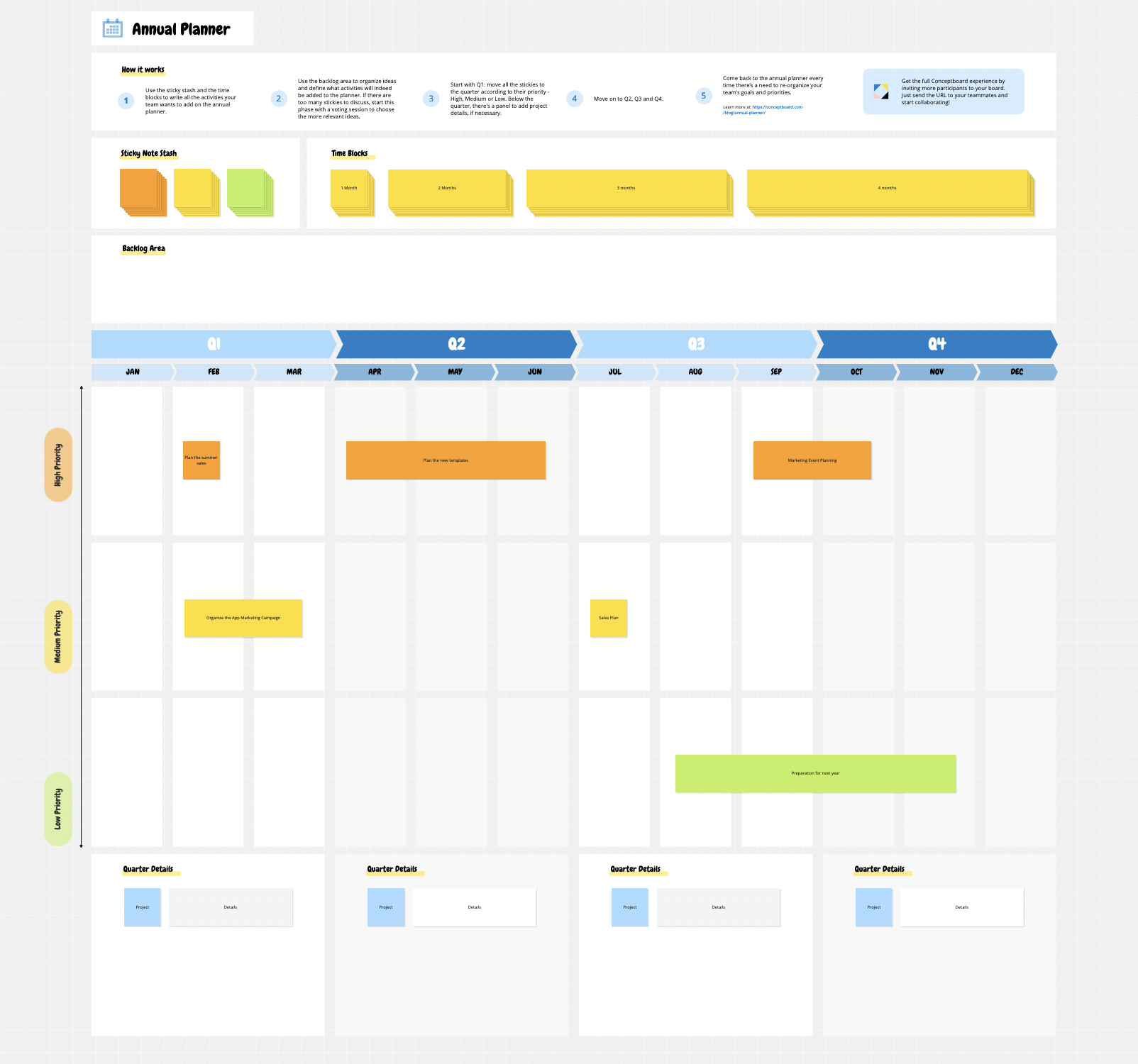 To get more information about the templates, you can check our Blog.
Cannot find the template you like? Create your own via a load link!
You can also create customized templates and share them with your team. All you need is a load link.
Load links make it possible to render a duplicate of the original board. By clicking on a load link, you will generate a separate URL resulting in a new blank template board. If you are logged in, the new board with its individual link will be stored in your board overview. This gives every single user a possibility to use and edit templates individually for their own purposes.
For further information, please reach us out at support@conceptboard.com. We will take care of the final implementation.
Mind Clarity: Mind Mapping and Visualization
Mind mapping is a tried way to specify and visualize your ideas. Conceptboard allows you to employ different data formats for better results. Be it a research project for a legal dilemma or a design prototyping set, use videos, pictures, texts and diagrams to create an integrated mind map with no bounds.
For more information on mind maps, check our blog.
Here are some of our examples: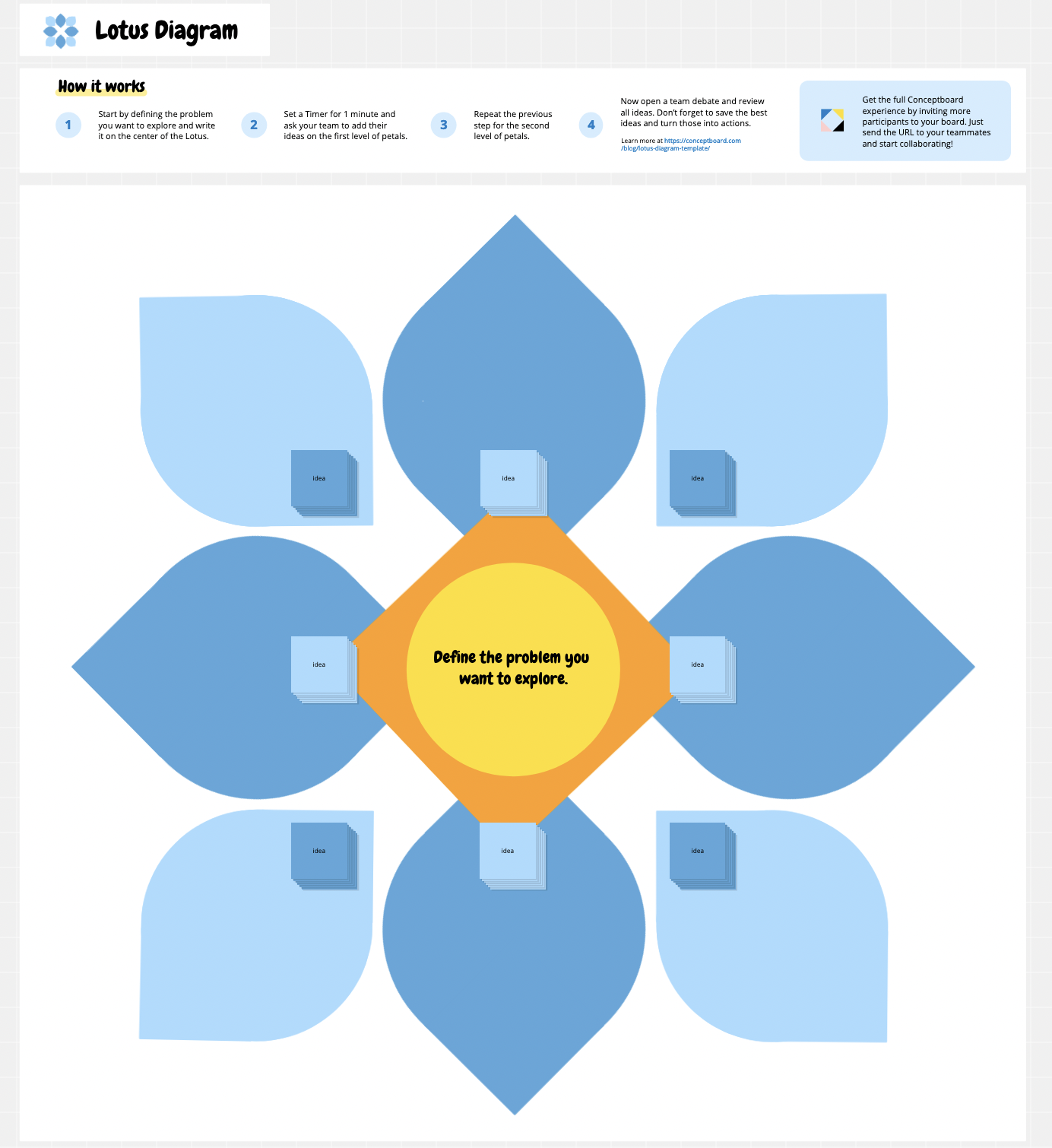 Staying on Track: Planning and Time Management
Your deadlines are strict, but procrastination is stronger?
Plan your research and manage time effectively with our planning tools. Conceptboard helps you to hit those milestones right on time.
Here are some of our template examples for planning: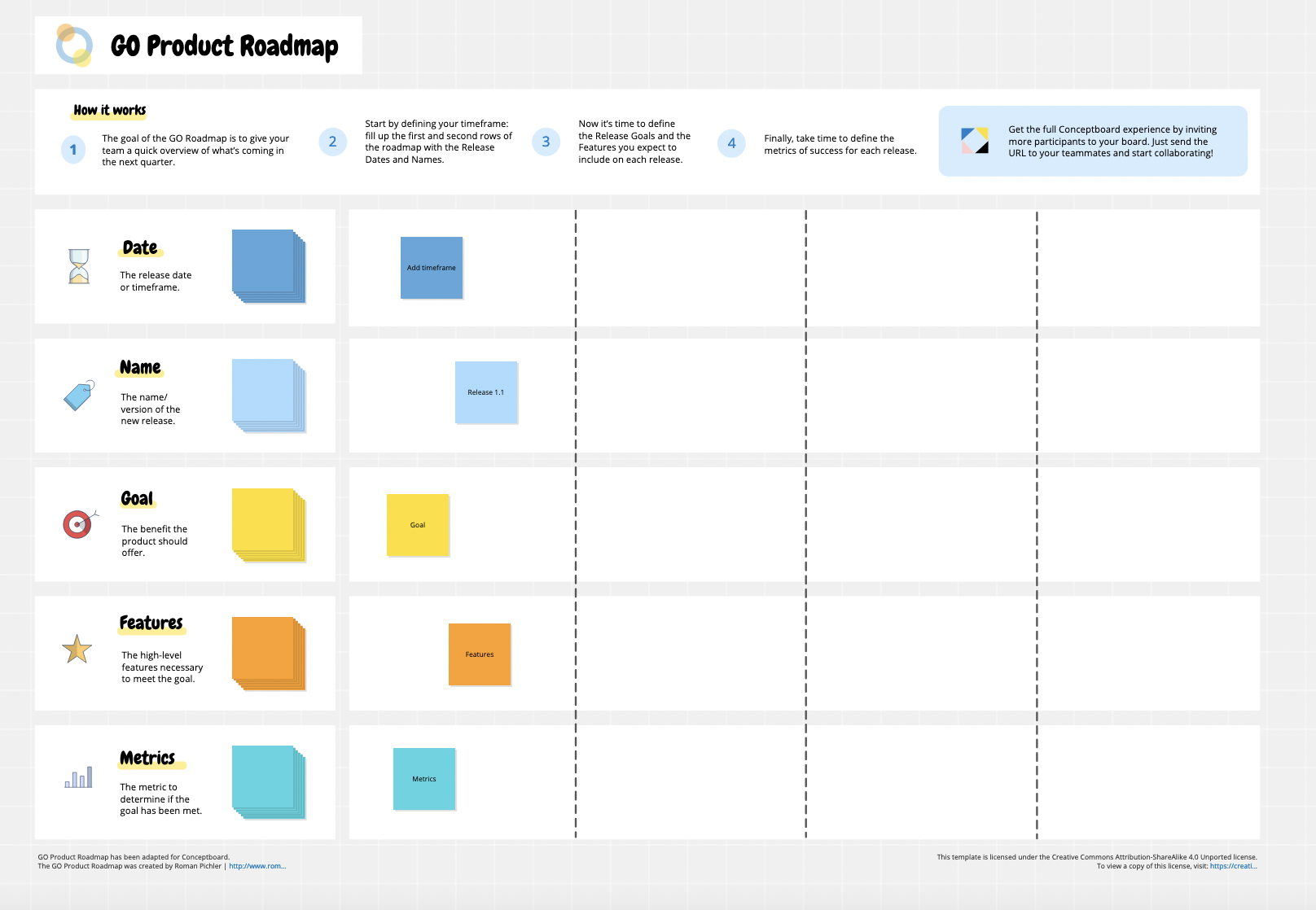 Sections and Board Navigation
Even if your board canvas is infinite, it doesn't mean you can get lost on it. Board Sections are a great way to organize your boards. You can use them to:
create an overview of the board
create presentations from board content
change where the board lands when you open it
create partial custom exports (as image or pdf), or export the whole board
Additionally, your board's general layout is always accessible to you on the minimap for better navigation.
Collaborating and getting feedback from your peers
Remote collaboration requires a lot of coordination of often conflicting schedules and staying regularly updated on the research progress. Conceptboard boosts your profession cooperation by giving you tools to keep in touch with peers and professors without leaving the comfort of your home. Tag contributors, leave them tasks and comments, and ask their opinion any time and at any place for insightful collaboration. Modern research is often a product of a collective mind and we help you get the best of it.
How to Organize and Share your boards
Your research might be an inspiration for others, but first and foremost it is your intellectual property. Conceptboard provides all necessary tools and limitations to manage access to your boards. Our go-to solution for controlled board access is different access roles for collaborators.
Board access roles provide all board owners with the ability to choose the scope of permitted action for other participants on the board. As you share your board with other participants via share function, you can choose what role they will have when they access your boards.
How to share boards - you ask me?
A standard way to share an online whiteboard is to invite other participants to collaborate. Two most common techniques are to invite people by direct invitation from the board or by sharing a board access link with them. If a simple board link does not satisfy your personal standard for data privacy, Conceptboard lets you set up password to elevate protection for your boards.

What if your boards multiply ad infinitum and you find yourself swamped in a sea of information?
Projects aka Board folders come to the rescue. You can create projects to gather all related boards in one area. There is no limit on the number of boards that can be in a project.
Just as is the case with your boards, projects can also be protected by differentiated access roles. When inviting a Project member, you can automatically set the role that the user will have within all boards in a project.
These roles can also be chosen within a project. When you assign these roles in a project, all boards that are created within that project will automatically use the default roles. Existing boards that are moved into the project keep their role settings.
If your research entails team work and regular cooperation with your partners and peers, sharing projects with them will foster your collaboration in the most effective way possible. Being added as a project member means:
Access to all boards inside the project
Being able to create boards inside the project
Access to all new boards that are created or moved inside the project
Being notified of all activities in all boards within a project
So, it's settled: Conceptboard can become the most secure and indispensable companion on your research journey. But which version should you go for - free or professional?
Our free accounts can create as many boards as they need, and work with anyone, from anywhere. If you need more than what a free plan can offer, you can upgrade your account to an unlimited number of objects and additional pro features on your boards.
Bonus: after the upgrade, you will receive a whole month of all PRO features for free - this is a little thank you for choosing us.
Depending on your needs, you might consider our free version's limitations:
100 Objects per board
Free boards can contain 100 objects (uploads, shapes, and text items… we're not counting scribbles, lines, or hand writing). You can see your object count in the toolbar. When you reach the limit, a popup alerts all board participants. You can then upgrade for unlimited board objects, or move your information to a new board to continue working
File upload cap
Please note that there is an upload size limit of 10MB for free accounts
Board access


Free boards have a single type of board access: "Anyone with the link". Board URLs are private to the board owner, who can then share the URL link with others

Professional board features

projects

board approvals
board history and versioning
video/audio chat and screen share
We wish you all the best in your groundbreaking research! For more information, please contact us at support@conceprtboard.com or check out our blog.