Conceptboard has 6 main pages that all users can access.
Home Page
Your 'Home' page is the central hub of activity.

On this page, you can create a new board, search previous boards already made and view the activity feed. You can also see how many boards and projects you have created and how many tasks you have completed. You can click on the Invite users button to invite users to your team.
The Activity Feed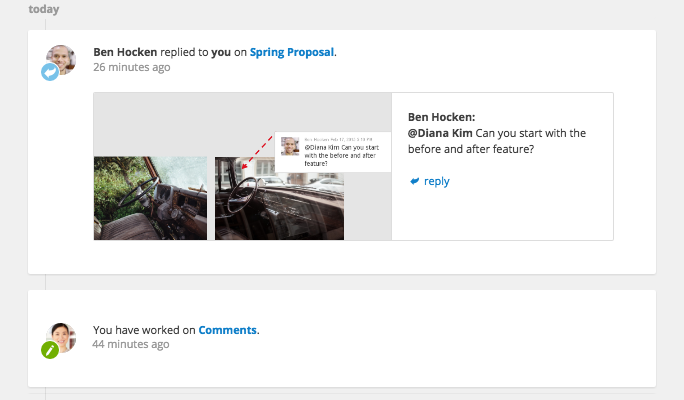 The 'Activities' feed shows all important activities that are happening in your Conceptboard in timeline format.
The feed will show you:
Shared boards you and your collaborators are currently working on
Boards that you have been invited to
Boards that you have created or deleted
Board updates
Comments and tasks in which you have been @mentioned
The Alerts Button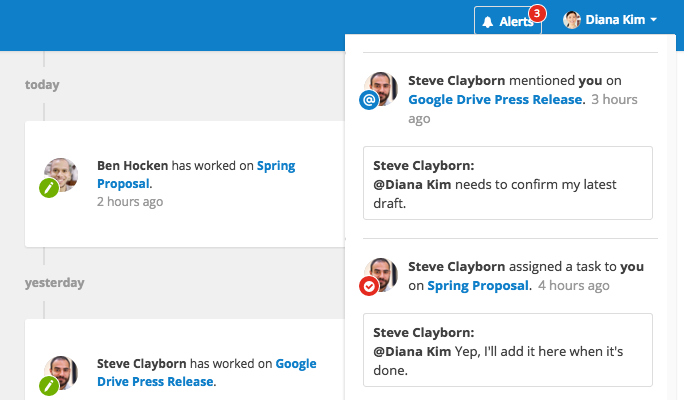 The Alerts button located in the top right corner of your Home page will show you activities for the most recent boards that you have worked on. You will be alerted with a red bubble next to the alert icon when there are new alerts that you haven't seen yet.
It will show you @mentions, all assigned tasks, all replies in comments that you have been involved in, and when there has been an updated to an approval process for a board. Click on any alert to bring you to the its location in the board.
Boards Page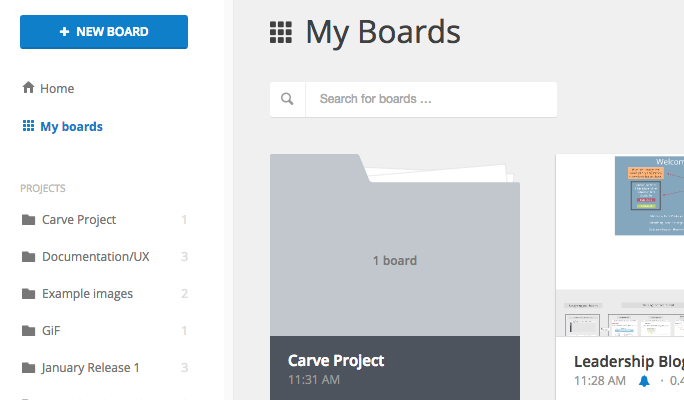 The Boards page shows an overview of all projects and boards that you have created or been invited to by other users.
When you hover over any board tile, you can access further options, including Share the board, Updates and Approvals, Board Attachments, Board settings, and Access Settings.
You can quickly search for boards or projects by typing keywords in the search box. The search looks through all comments and text added to a board, as well as, board titles when searching.
You can further narrow down your search by viewing all your boards, only boards owned by you, or only boards shared with you. Click on the checkbox to show your Projects or hide them from the Boards page, choose to switch your board view to a list, a tile view, and the order that they are placed.
Projects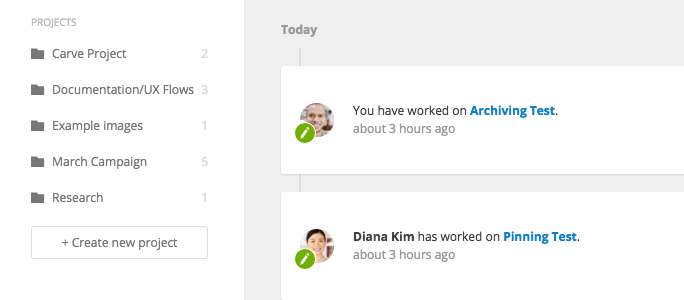 Projects provides a way for you to not only organize boards, but also to easily provide access to anyone that needs it. On the left side panel, you will find a list of Projects that you are currently working on.
Simply add users as project members and they will be able to access all current and future boards created within the project. You also have the option to choose their Access Roles directly on the project level.
As a pro user, your Home page will show you a list of your active projects. You can create a project directly from this page.
Archive Page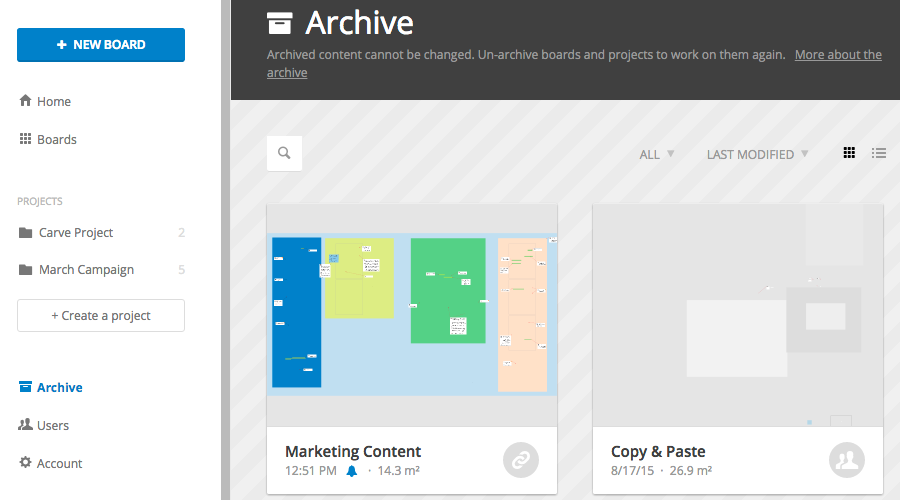 With Project and Board archive, users can keep a list of all their active projects in their boards overview, and preserve older content in the archive. Archiving a project or a board makes it read-only and removes it from your Boards page.
Users Page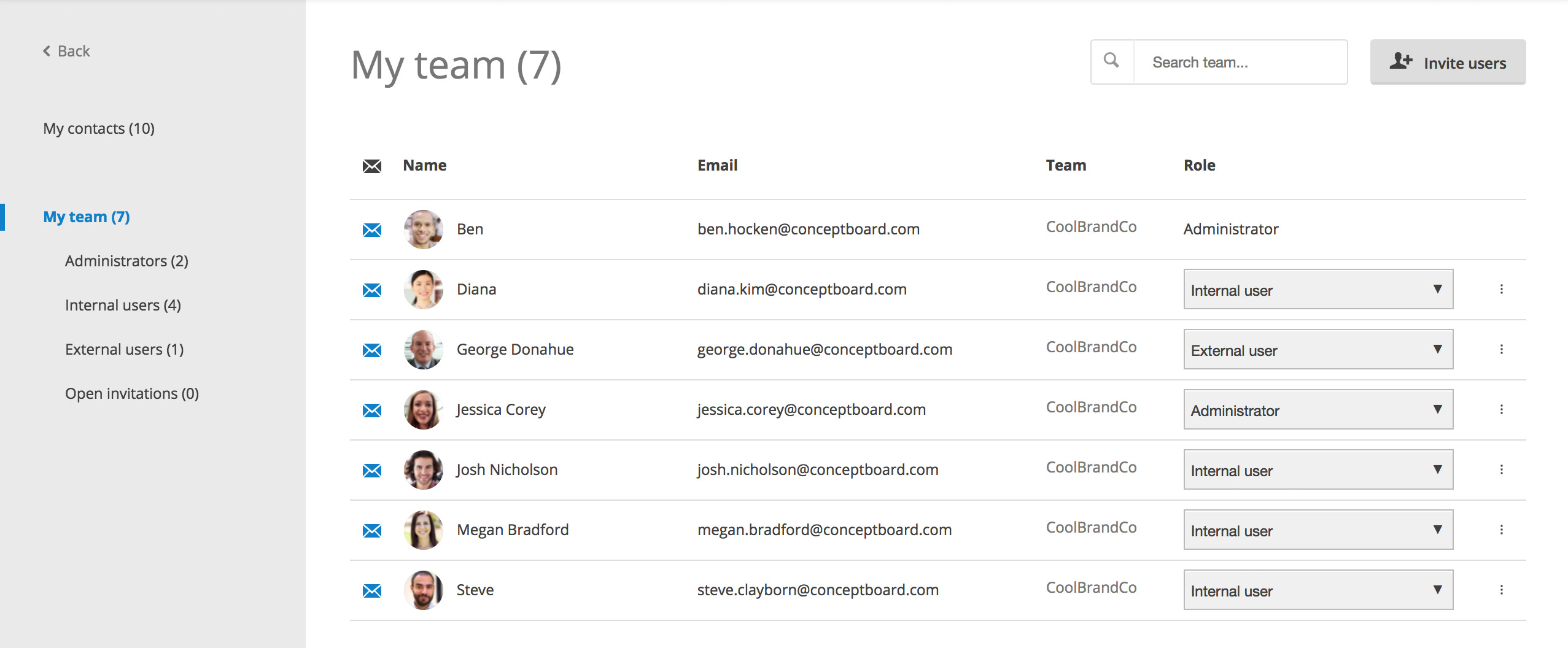 The Users page shows all of your contacts and invitations, including your team and other people that you have worked with on boards before. On the left hand side, you can choose to see only your "My contacts" list filled with your closest collaborators or your "My team" list.
Each user from "My contacts" is listed with:
User name
Email (only members of the same team can see each other's email addresses)
Team
Activation status: If the user has a blue envelope next to their name, this means that they have activated their email address and are able to receive notifications via email. If the user has a grey envelope next to their name, they have not activated their email and will not be able to receive any notifications via email.
Each user from "My team" is additionally listed with:
Role: All Pro users will be categorized as an administrator, internal user or an external user.
Account Page
As an internal, external, or free user, your Account page consists of two tabs that will show you all details regarding your account: The Overview and Edit Profile tabs.
As an administrator, you will have the first two tabs to manage your own account and three additional tabs to better manage the team account: Plan & Payment, Invoices, and Customize Account tabs.